Harsh shifting on Toyota RAV4 automatic transmission
If you own a Toyota Rav4 from 2001 through 2005 with automatic transmission and you are experiencing problems with the transmission, like harsh shifting, loss of power, launching on third gear and/or slamming into gear when it is put in reverse, then you should know that those problems are caused by a defective engine control module (Engine Computer, ECM or ECU), which also controls the automatic transmission.
These problems are erratic and may only show at intermittent intervals or when the vehicle is warm or have been driven for a specific time. Sometimes it shows up one day and the next morning it works flawlessly. Sometimes the problem is only in the morning and sometimes the problem is at night.
Besides showing the issues mentioned here, it may also show trouble codes P0750, P0753, P0755, P0758, and/or P1760, though most of the time it shows no codes at all. Think that the trouble codes (check engine codes) that a vehicle shows when scanned, are generated by the very same computer that is failing. It is good for diagnosing things monitored by the different sensors connected to it, but it is not so good for diagnosing itself.
Description of what happens
Shifting on the "electronic" automatic transmission is controlled by the ECM by sending electrical pulses to a set of solenoids installed in the transmission's valve body. Such solenoids, gradually open and close the path of oil transmission fluid pressure depending on the pulses they receive from the ECM, to do mechanical actions, like shifting gears, locking the torque converter, and controlling the pressure applied to it.
A defective ECM can no longer correctly control the transmission and starts sending erratic pulses to the solenoids, which in turn, transfers the erratic behavior of the ECM to the transmission by doing equivalent erratic mechanical changes and movements inside the transmission. This is why some customers that have had problems with the ECM, describe it like if the transmission feels like falling apart. At this time, the ECM must be repaired before the transmission suffers an internal failure commonly caused by using defective ECMs for long time periods.
Reprogramming or updating the computer software will NOT fix the problem. It must be PROPERLY repaired.
What the ECM look like?
Below is the 2001-2003 ECM box: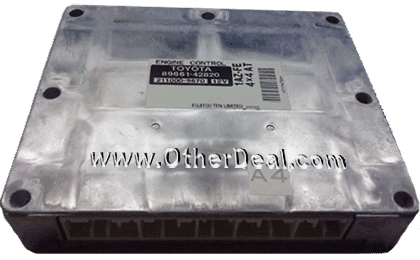 Where is the ECM located?
Location of the ECM in your 2001-2003 Toyota Rav4: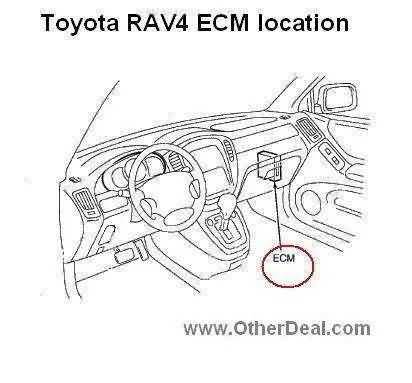 Common scenarios examples
You stop at a red traffic light and when continuing, your RAV4 hardly moves, like if it is carrying a very heavy load. This happens because, at that moment, the damaged ECM failed to send the electrical pulse to the transmission solenoids to shift down to first gear, keeping it very often in the third gear instead.
When you try to move your Rav4 vehicle and it hardly moves and feels very sluggish, our natural response is to accelerate harder to try to move it, while noticing that RPMs go up and your Rav4 is still moving slow or sluggish. It is not until certain speed that it picks up and moves normally. This situation, in no time, will burn the transmission internal clutches, and not only the ECM will need service, but the transmission too. That is why, when you notice any of these symptoms, you must act quickly and have your Rav4 ECM serviced the soonest possible. If you do so, the problem will only be a damaged ECM. If you do not service it and instead keep using your vehicle with a failing ECM, soon a transmission repair or replacement job will add up to the bill, which at the time of writing this, may go up to $4000. For these models' estimated market value, allowing the transmission to fail this way, would be practically uneconomical to repair it. DO NOT TAKE CHANCES AND ACT NOW!
Repairing the ECM is not expensive. At  Rav4Repair.com, we charge less than $200 and on top of that, allow customers to offer a better price for them (Better Offer feature). If we accept the offer, we email them a coupon code to match their offer when ordering. Otherwise, we would send a counter-offer, still at a cheaper price than listed, and offer a 2-year warranty.
This Rav4 transmission problem is very common and it is affecting more than a million Toyota Rav4 vehicles all around the globe. In the USA alone, 246,000 units are estimated to be affected. The units affected are the 2001-2005 Toyota models; Toyota Rav4, Toyota Picnic, Toyota Avensis, some Toyota Ipsum, and some Toyota Gaia. Either four-wheel drive (4WD) or two-wheel-drive (2WD) models. Either left-sided or right-sided steering wheel. Either 2.0L engine (1AZ-FE and 1AZ-FSE) or 2.4L engine (2AZ-FE).
Symptoms of the problem
Below is a list of the most common symptoms with a failing ECM in your 2001-2005 Toyota Rav4. You may experience only one of these symptoms or a combination of more than one of them:
Shifts erratically or slips gears
Slamming into gear when putting it in reverse
Starts in 3rd gear instead of 1st gear
Too sluggish to get it moving after stopping
Rattling or clicking noise coming from the front
False solenoid DTC error codes (P0750, P0753, P0755, P0758 and/or P1760)
Sometimes feels like it is applying the brakes by itself
In many cases, low fuel economy
*** IMPORTANT NOTE ***
If your Rav4 does not engage in reverse AT ALL, at that point, it means that the ECM is damaged, BUT the damage went beyond the ECM, into the transmission.
The ECM controls all the forward gears (1st, 2nd, 3rd, and 4th), but it does not control the reverse. The reverse, even when affected by a damaged ECM, like bumping when putting it in reverse, the reverse is mechanical and not controlled by the ECM.
So, the ECM must be repaired, but so the transmission. If you decide to repair your car, you will need a good or properly repaired ECM in order to prevent damage to a new, used, or repaired transmission. Repairing your ECM in these cases will always be the first step to take for fixing your Toyota Rav4.
ECM Part Numbers – Below is a partial list of the Toyota part numbers affected by this issue, but there are many others that are not included at this moment.
| | | | | |
| --- | --- | --- | --- | --- |
| 89661-42620 | 89661-42621 | 89661-42622 | 89661-42650 | 89661-42651 |
| 89661-42652 | 89661-42653 | 89661-42654 | 89661-42660 | 89661-42661 |
| 89661-42662 | 89661-42663 | 89661-42664 | 89661-42680 | 89661-42681 |
| 89661-42682 | 89661-42683 | 89661-42700 | 89661-42701 | 89661-42702 |
| 89661-42720 | 89661-42760 | 89661-42761 | 89661-42810 | 89661-42811 |
| 89661-42812 | 89661-42820 | 89661-42821 | 89661-42822 | 89661-42840 |
| 89661-42880 | 89661-42890 | 89661-42A30 | 89661-42A31 | 89661-42A50 |
| 89661-42A51 | 89661-42A80 | 89661-42A81 | 89661-42A82 | 89661-42A90 |
| 89661-42A91 | 89661-42A92 | 89661-42B00 | 89661-42B01 | 89661-42B40 |
| 89661-42B80 | 89661-42B90 | 89661-44230 | 89661-44250 | 89661-44270 |
| 89661-44271 | 89661-44272 | 89661-44290 | 89666-28140 | 04009-39142 |
| 04009-39242 | 04009-39542 | 04009-39643 | 04009-41242 | 04009-41342 |
| 30510-42100-84 | 30510-42110-84 | | | |
What about those low-cost services offered on eBay and other Internet places?
There is a reason why the word "PROPERLY" was in all-capitals at the beginning of this article. Well, the next step after noticing the issues with your Rav4 is to service your ECM. If you search the internet, you will stumble upon an ever-growing list of individuals and "companies" offering this service, including eBay. The problem is that they are doing a very poor or incomplete job, maybe due to the fact that many of them do not fully understand the problem and causes of the failure in the ECM's circuit and are fixing either the problem or part of it, but not the cause of the problem. This makes the ECM fail again soon.
We have received MANY ECMs that were previously "fixed" by any of our competitors. Those ECMs get here because of the owners doing a second attempt to have their ECM repaired after the service from our competitors failed. That's how we know the quality of the job that they are doing. The most notorious cases are when they cover the circuit with epoxy resin, making it inaccessible for a second revision of the problem, as most of the time, it fails again (thanks to our friends in Davie, Florida for bringing this headache into the scene). I am not sure why they cover the circuit with epoxy, but when their "serviced" ECMs end up here in our shop, the epoxy needs to be removed and many parts replaced because the epoxy corroded those parts.
Removing the epoxy takes a lot of time and patience. We always do our best and while we have succeeded in most of these cases, there is always a chance of the ECM needing replacement. Below are examples of what has been found.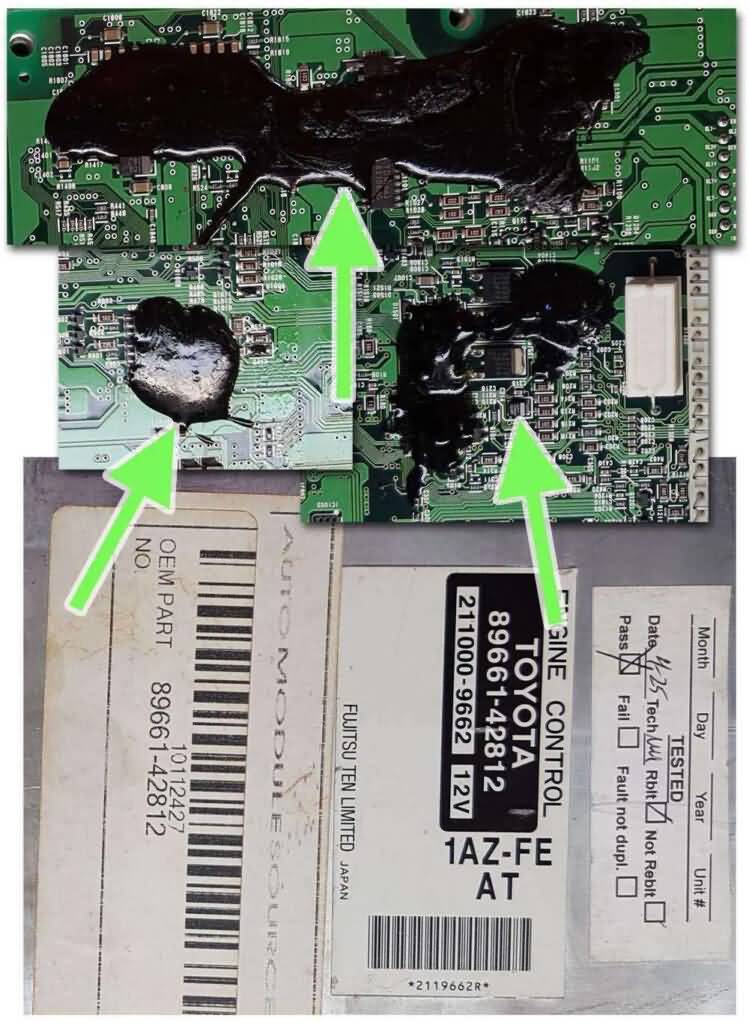 In the picture below, you can see three control chips for the transmission's solenoids. All three are the same chip type but in different situations. These chips are mounted on the circuit board of the 2001-2003 Rav4 ECM. From the image below:
This chip was replaced from an ECM with epoxy. Notice the corrosion in the solder tab. This solder tab is tightly soldered to the circuit board for heat dissipation and still, corrosion from the epoxy, which was on the other side of the circuit board, reached to it.
The second chip form the top was a chip replaced from an ECM WITHOUT epoxy. Notice the difference. The chip is no good but was not corroded and still has clean solder remanents on its tab.
The third chip from the top is an unused brand new chip for comparison.
So it is obvious that if you send your ECM to the shop doing this, or if you buy a replacement ECM from them, you can be sure that it will eventually fail if they used their epoxy "solution".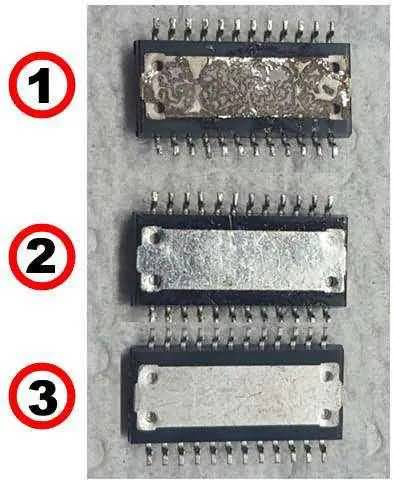 A reliable and Affordable Solution
We offer a professional service for repairing your 2001-2005 Toyota Rav4 ECM where you may check in the link below. While it might take a little more time, we do accept ECMs even if they have been tampered with or have previous repair attempts. That is how confident we are about our skills and knowledge about this job. Even the price will be the same:
2001-2005 Toyota Rav4 ECM Repair Service
Do you own a 2001-2005 Toyota Rav4? Having problems with the transmission? We can help!
For more details you may access our information and ordering webpage in the link below::
Our Facebook page for information and unsolicited testimonials is:
The service includes FREE shipping to the USA. The labor rate covers the repair job, any needed parts, programming, and testing.
Warranty
Our warranty on the job is 2 years. About the Toyota warranty, at this date their original extended or "enhanced" warranty is over, as all vehicles included in such a warranty are either more than 150,000 miles or otherwise, the most logical reason, they are more than 10 years old. If you are interested in the original warranty documents anyway, you may download it in PDF format from here:
2001-2003 Toyota Rav4 Bulletin on Harsh Shifting
2001-2003 Toyota Rav4 Warranty Extension
Some geeky information for techs
A partial schematic of the wiring of the solenoids on the RAV4 automatic transmission from the ECM.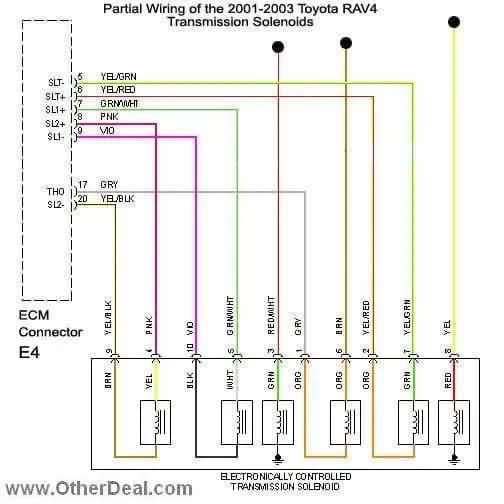 Interested in the full wiring diagram of the ECU connections of the 2001-2003 Toyota Rav4?
Please complete the information below to receive your free item.
By filling and sending this form you are giving us your consent to send you an email with the requested document.

Your information is safe with us. We take privacy seriously and DO NOT sell or share your information in any way.

Your data will only be used for sending the requested document(s) and for emailing any related information or material that we might offer in any future. If we do so, you will always be provided with a link for unsubscribing if you desire to do so.
I agree with the
Terms & Conditions
Location of the solenoids in the automatic transmission.
(Most asked: 2001 Toyota rav4 shift solenoids location)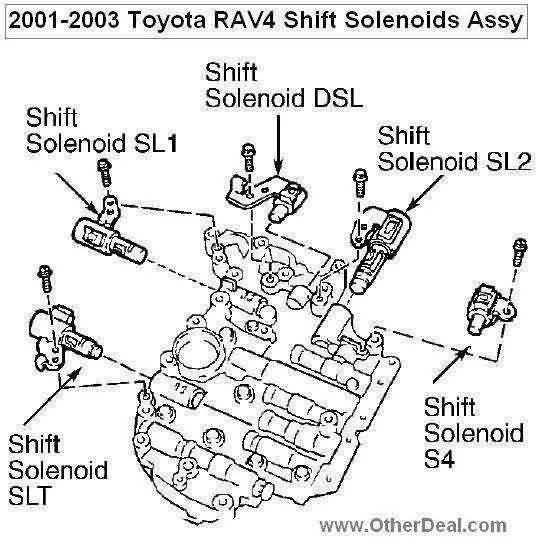 Solenoids terminal connector and solenoid coils resistance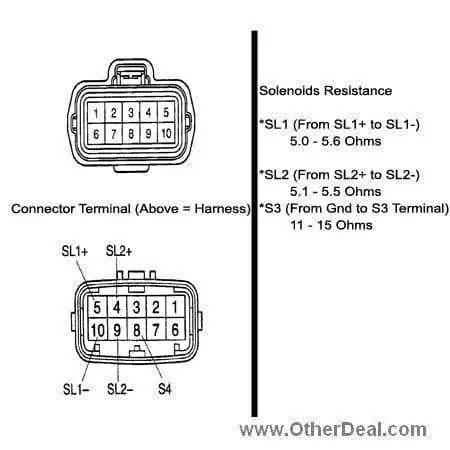 Is my rav4 a 2 wheel (2WD) or 4 wheel drive (4WD)?
If you have no idea if your RAV4 is a 4×4 vehicle or a 4×2 vehicle, it is easy to identify by looking at your RAV4's VIN number. All 2001-2003 4×4 RAV4 vehicles VIN number starts with "JTEHH20", while 4×2 vehicles' VIN number will start with "JTEGH20". The significant figure, in this case, is the 4th character. An "H" means 4×4, while a "G" means 4×2.
How do I know is my Toyota Rav4 has the immobilizer system active?
You may know if the immobilizer is enabled or disabled in your Rav4 by looking at the article in the link below, which was published for that purpose.
Does my 2001-2003 RAV4 has immobilizer or not?
What other users are looking for:
2004 toyota rav4 ecm 89661-42A80 is that part of recall about hard shifting issues 89661-42A91 toyota rav 4 2001 correct auto fluid level 2002 toyota rav4 transmission hard shifting 2002 rav4 rough shifting when replacing new ecu from raf4 shifting drag and car stop what is the cause 2001 Toyota RAV 4 automatic transmission will not into 1st gear 2001 rav4 computer issues for transmission 1and2 gear hash engagement 1994 toyota camry 3s engine Automatic kick down computer