Do you own a 2001, 2002, 2003, 2004 or 2005 Toyota Rav4?
Are you having problems with the automatic transmission? The transmission acts erratically? Loss of power when accelerating or launching in other than first gear? Engaging harsh in reverse like in a bump? Slipping from 2nd to 3rd gear?
All those are problems caused by a defective ECM or Engine Control Module, a.k.a "Car Computer".
The good news is that we have a solution for getting rid of the problem for good and prevent imminent damage to your vehicle's transmission.
For more testimonials and other information you may visit our Facebook page at:
We are offering a REPAIR AND RETURN service for your Toyota Rav4 ECM (a.k.a ECU). You send us your defective ECM, we repair and reprogram it and then it is shipped back to you. Our turn around time is one business day for most of the times or 2 business days when the workload is high. International orders are welcome too.
Shipping
We offer FREE return shipping through USPS Priority Mail to Continental USA, including also, Puerto Rico, Hawaii, Alaska, Guam, American Samoa, and US Virgin Islands. For international locations (out of the USA), return shipping cost will be calculated for FedEx shipping service. Return shipping to Canada can be done through USPS too, but unfortunately, we have no free options for it at this moment.
This is affecting more than a million units all around the world. It is so common that Toyota issued an "enhanced warranty" on this, which is long expired now.
This service covers 2001-2005 automatic Rav4 models, either 4WD (4 wheel drive or 4×4) and 2WD (2 wheel drive or 4×2). It also covers the Toyota Picnic and Toyota Avensis models of the same years (2001-2005).
Tampered Units
Did you already service your ECM with any other shop or Company and they could not fix it? or, did you try fixing it yourself and it did not work? No worries, no shame. We accept those units too. ECMs that have been serviced or attempted to be serviced previously by others or by yourself, may take a little more time because in some cases, we need to fix additional problems induced by any previous repair attempt, but we will gladly accept your unit and do our best to help WITHOUT adding any extra cost to the repair job.
Symptoms
The following are the most common symptoms of this issue with the ECM:
Check engine is not triggered in most cases
When Check engine is triggered, it commonly shows P0750, P0753, P0755, P0758 and/or P1760 trouble codes when scanned
Hesitation or harsh shifting, mostly from 2nd to 3rd gears
Slams into gear when putting it in reverse
Sometimes the vehicle feels like braking by itself
Erratically shifts on an intermittent interval
Rattling or clicking noise coming from the engine bay when the engine is running, even if in neutral gear
Some days it fails and some other days it works with no issues
The problem is there only when the engine gets warm or only when it is started the first time in the morning
When stopping completely and moving again, it loses power and feels sluggish or heavy
Lower fuel economy. Spends more gas than usual
ECM Part Numbers
This is a partial list of the ECM part numbers affected. You will find the part number on the label at the top of your ECM. It starts with "89661". Not all numbers are covered here, so if you don't see your ECM number in the table below or if you are in doubt if your ECM is part of that list, please feel free to contact us to ask.
89661-42620
89661-42621
89661-42622
89661-42650
89661-42651
89661-42652
89661-42653
89661-42654
89661-42660
89661-42661
89661-42662
89661-42663
89661-42664
89661-42680
89661-42681
89661-42682
89661-42683
89661-42700
89661-42701
89661-42702
89661-42720
89661-42760
89661-42761
89661-42810
89661-42811
89661-42812
89661-42820
89661-42821
89661-42822
89661-42840
89661-42880
89661-42890
89661-42A30
89661-42A31
89661-42A50
89661-42A51
89661-42A80
89661-42A81
89661-42A82
89661-42A90
89661-42A91
89661-42A92
89661-42B00
89661-42B01
89661-42B40
89661-42B80
89661-42B90
89661-44230
89661-44250
89661-44270
89661-44271
89661-44272
89661-44290
89666-28140
04009-39142
04009-39242
04009-39542
04009-39643
04009-41242
04009-41342
30510-42100-84
30510-42110-84
ECM Location
Some common questions:
Wouldn't it be better if the ECM is replaced by a new one?
Either brand new or used (recycled) ECMs are giving the same problems, the brand new in the long run and the others in a few months. Also, the repair cost of the ECM is a lot less than the cost of a brand new replacement ECM that would fail again in a few years if it is not corrected. We offer the most complete service for these units, as we cover the whole unit, not just the transmission problem and not just the symptom of the problem, but the cause of the problem too.
Do you actually repair or reprogram the ECM?
We do both. We offer the most complete service available for these units:
We first repair the circuit and replace any needed parts.
Second, we reset the transmission adaptation table memory, so it starts relearning from zero when it is installed back. If your vehicle is equipped with the immobilizer security system, we reset it too to make sure the engine will start when installed back after it has been serviced.
Third, we recondition the whole circuit to prevent future problems with any other area.
Fourth, we check if there is an update available from Toyota for your unit. If there is one, we do the update by installing the latest software version available for your ECM. If your ECM's software is outdated, it won't leave our shop without been updated.
Finally, it is tested in an actual vehicle. This is done with the USA and Canada Market models. Japanese and European market models will be bench tested for transmission functions and vehicle tested for engine functions.
Will I have a tracking number?
Sure! When you send your unit to us and we receive it, we will notify you and will do the same when it is completed and shipped back and will notify you of the tracking number. If you do not receive an email from us, it probably is in your email's spam folder. To some users, we will try to notify from an alternative email if our system tells us that the email was denied or if it bounced. But when the system says "email delivered", sometimes it lands in the "spam" folder. It depends on the way the email server of your email works. Our emails bounce the most from Yahoo mail. That is why, though it is optional, it is a good practice to (1) create an account with us when ordering instead of ordering as a guest and (2) leave your phone number in the order.

Questions?
For more questions, please see our FAQ section in the "FAQ" tab on top of this information section or feel free to contact us any time through the contact form on this page. We will be more than glad to help.
Warranty
We always stand by our customers. For our warranty on this service, please check the "Warranty" tab on this page.
—
Removing the ECM from your vehicle:
Tools you will need:
Short #2 Phillips screwdriver (stubby)
Regular #2 Phillips screwdriver
10MM Socket Wrench
Flashlight.
The kick panel and the scuff plate should be removed first, before starting the ECM removal procedure (check the first drawing below).
Now, proceed to:
1. Open the glove compartment box. There are two plastic pins, limiting its opening, one on each side at the inner end of the box. Push the two inner edges inwards, so the glove box gets disengaged from its place.
2. Now, with the regular Phillips screwdriver, remove the two screws in the lower part, that are holding the glove box to the dash.
3. With the glove box completely out, find the ECM computer at the right, which is a metallic box with 5 wiring connectors on it. It is near a smaller metallic box.
4. Unplug the 5 white wiring connectors one by one, by pushing on a locking plastic clip that each connector have while pulling the harness out at the same time.
5. With the 10mm socket wrench, remove the 10mm head bolt that attaches the ECM to the bracket at the lower part (refer to the second drawing below) and with the short Phillips screwdriver, remove the two screws at the top.
You might need a flashlight here to easily find those two upper screws and you might also need to move any wiring away, that might be in the path for taking the ECM out.
6. When the ECM is loose, carefully slide it downwards. It will come out with the rear bracket attached to it, so when it is out, remove the four Phillips screws as shown in the second picture below.
That's it. You may pack it in a small box and send it to us!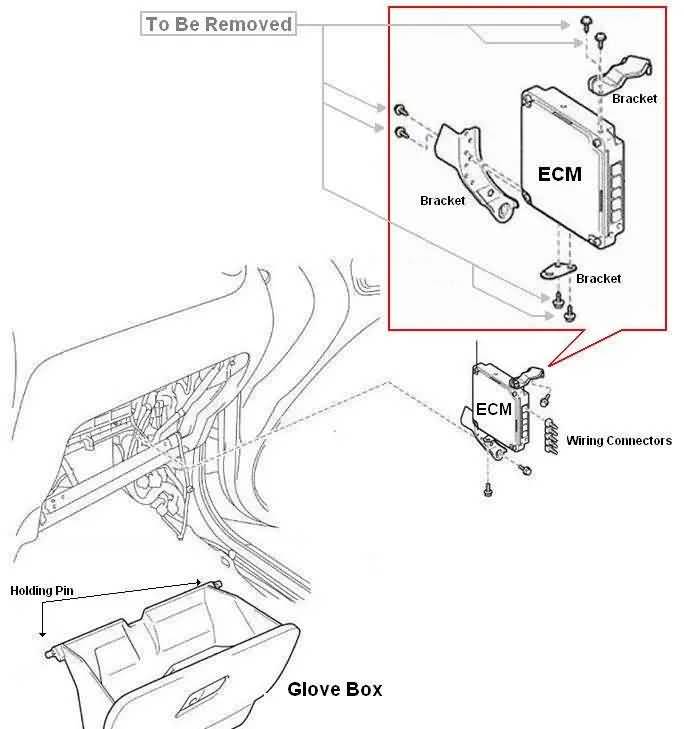 *** IMPORTANT NOTE ***
If your Rav4 does not engage into reverse AT ALL, at that point, it means that the ECM is damaged, BUT the damage went beyond the ECM, into the transmission. Please refer to our list of symptoms elsewhere in this page.
The ECM controls all the forward gears (1st, 2nd, 3rd, and 4th), but it does not control the reverse. The reverse, even when affected by a damaged ECM, like bumping when put in reverse, the reverse is mechanical and not controlled by the ECM.
What we mean is, the ECM must be repaired, but so the transmission. A good or properly repaired ECM must be in place in order to avoid damaging a new, used or repaired transmission in case you decide to repair your car. Repairing your ECM in these cases will be the first step.
Searches: 2001 rav4 ecm repair, ecm rav4, 2001 toyota rav4 ecm repair, 2002 toyota rav4 ecm repair, 2002 toyota rav4 ecm recall, 2003 toyota rav4 ecm repair, 2003 toyota rav4 ecu, 2003 toyota rav4 transmission control module, toyota rav4 computer, toyota rav4 ecu repair, toyota rav4 ecm problems
What other users are looking for:
[
2002 rav 4 ecm repair
] [
89661-42a91 rebuild
] [
cost to replace rear subframe on 02 2wd toyota rav 4
] [
how to remove and install ecu on 2010 rav4
] [
list of make and model 89661-42 ecm resitor problem
]