This high-performance Chip will work on both, manual or automatic transmission 325i and 525i models (E36 chassis) with the 2.5L engine, equipped with the VANOS system (Non-Turbo). You may install this chip in the DME (engine computer) of some late 1993, most 1994, and early 1995 models. If your car's DME computer is the "Bosch 0 261 200 413", then this chip is for you.
A 28-pin EPROM socket and detailed installation instructions are included in the package. The 28-pin socket is included in case i is needed, but most of the DMEs installed in these models already have the stock chip installed on a socket. You just need to pull out the stock chip and insert this performance chip. In the case that the chip in your DME is soldered directly to the circuit board, you will need to unsolder and remove the stock chip and solder the socket in its place, but these cases are the fewer.
This chip was reprogrammed with higher fuel injection duty at specific RPMs and specific acceleration points. The reprogramming also contains a more aggressive ignition timing, especially for producing more torque and more horsepower. The rev-limiter (redline) was raised from 6400 RPMs to 7000 RPMs. It will allow for even more power at those high engine speeds momentum, without the risk of spinning too high that could cause a valve float.
If your car is equipped with the EWS security (anti-theft) system, included in the late 1995 models with the same DME or ECU, you can still use this chip, but two simple wiring modifications must be done to deactivate the EWS-II system and enable the starter. For more information on that, including a video, you can check the link below:
Having a "Silver-Label" ECU (DME) instead of a "Red-Label" one? No problem! You will just need to modify three wires: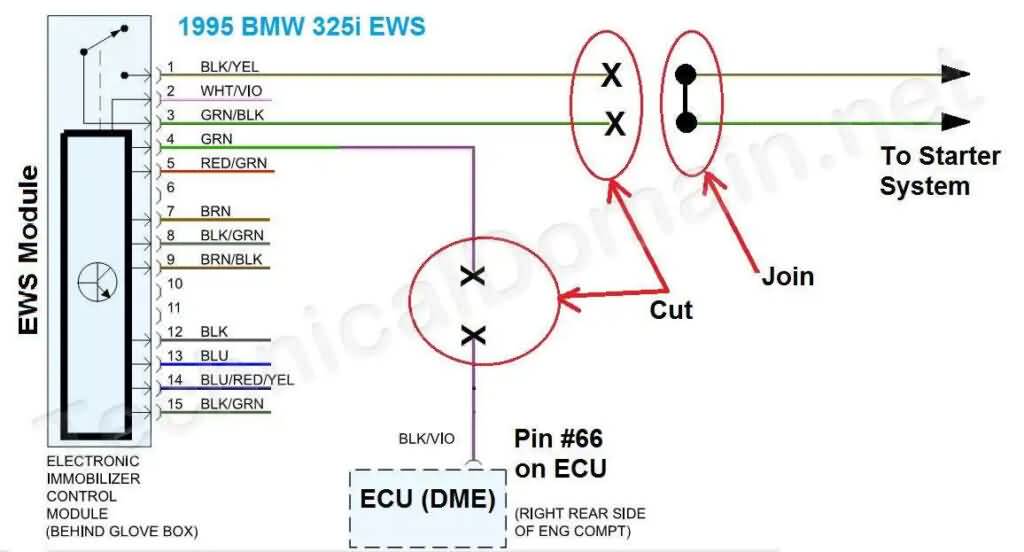 About installing this chip, we include the instructions in the package, but you can also check the article below for the information:
Installing a Chip on the 1993-1995 BMW 325i/525i
This chip is the real thing and retails for $300.00+ in other stores, so get it here for a fraction of that price while it lasts. We are sure that you will be satisfied with the results obtained as soon as you install this chip!
Details:
(1) Fuel and Ignition Tables were remapped and optimized for producing more horsepower and torque.
(2) Rev limiter (Redline) was raised up to 7000 RPMs
(3) Top Speed governor removed to allow the car to reach its natural maximum speed.
(4) Will get rid of EWS with two minors modifications to the wiring.
(5) Will ONLY fit the Bosch 0 261 200 413 DME computer.
(6) You must use at least US 91 Octane fuel (R+M/2), or Europe RON 95 fuel
(7) Not designed to be used on Turbo or any other boosted application.
Where is the DME or ECU located in my 1994-1995 325i or 525i?
F.A.Q. (Frequently Asked Questions)
Q. Is this a real chip or one of those resistors sold in fancy boxes as "chips"?
A. This is a real EPROM chip (memory device). This chip holds the program to be run in the DME computer. We modified such program code to accommodate enhancements to fuel delivery, ignition management and some other parts of the engine functions that are controlled by this computer.
Q. Are these chips vehicle or application specific?
A. Yes. They will only work with the Bosch DME model 0 261 200 413.
Q. How can I identify my computer type?
A. To identify your engine computer (DME) type, you must look at the computer's top cover label. The number should be "0 261 200 413". If the number is different, then this chip won't work with your DME computer, unfortunately. For help locating your computer in your car, please refer to the above illustration. It is located below the passenger side wiper assembly, on the engine bay (under the hood).
Q. I found my computer, but instead of "Bosch", it reads "Siemens". Will this chip fit on my computer?
A. Unfortunately, this chip will not fit in Siemens type DME computers. The program structure in the chip is for the Bosch DME computer.
Q. How can I identify if my DME has the EWS security system or not?
A. You may easily identify it because by default, all DME's without EWS have a marron-colored label or sticker on its top cover and the ones with the EWS security system, have a silver-colored label.
What other users are looking for:
95 bmw 325i alonejn7 bmw aftermarket non ews performance chip engine chip for performance