High-performance chip for 1994 – 1995 Hyundai Accent 1.5L models, either with Manual or Automatic transmission.
A 28-pin socket for inserting the chip is included along with detailed installation instructions.
You will be satisfied with the extra performance you will add to your car instantly as soon as you install this chip!
Details:
Fuel and Ignition Tables were remapped and optimized for producing more horsepower and torque.
Revlimit (Redline) was raised up to 8000 RPMs
This chip will ONLY fit the following Hyundai ECU/ECM computers made by KEFICO:
39110-22330
At least US 91 Octane fuel (R+M/2) or Europe RON 95 must be used when this chip is installed. This chip is NOT to be used on Turbo or any boosted application.
FAQ
Q. Are these chips vehicle or application specific?
A. Yes. They will only work with the models or applications listed on this page. Using it otherwise, either won't work or might be unsafe for the ECU.
Q. What other modifications are supported when using this chip?
A. Any intake or exhaust modification will be great using this chip.
Q. What modifications are NOT supported?
A. Modifications not supported are fuel delivery modifications that considerably change the amount of fuel injected, like larger injectors or higher fuel rail pressures. Using boosted applications, like Turbo or supercharger or using Nitro (NO2) as oxidizer are not supported either. It is also recommended that ignition timing is kept at the stock value.
Q. How can I identify my computer (Engine Control Module) part number?
A. To identify your module (ECU or ECM) part number you must look at the module's top cover label. The number should be similar to the following format:
39110-22330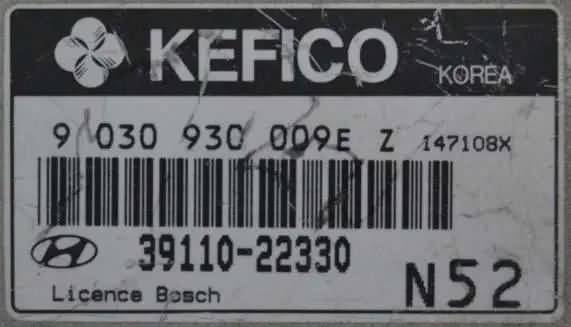 Q. Where is the ECU located?
A. The ECU or ECM is located at the driver's side, under the dash. Please, check the picture below for reference:
Location of Hyundai Accent ECU / ECM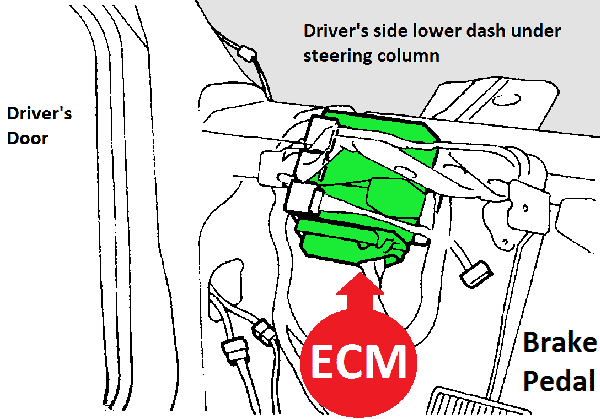 Warranty
The warranty term for this product is stated on the top area of this webpage and it covers the product in its physical and its electronic (functioning) areas.
This warranty will not cover any claim as the result of an external cause like mishandling of the product, wrong installation, been used in the incorrect application or ECU/ECM, been soldered directly to the circuit instead of using the provided socket, been broken or cracked by a hard hit or fall, or been used in any other way than intended.
What other users are looking for:
1995 Hyundai accent ecu Hyundai accent 1995 model custom and sported