Engine Control Module (ECM/ECU) for the 2007 and 2008 Toyota Corolla 1.8L, Automatic transmission models. This ECM fits the Toyota Corolla, Corolla LE, CE, and S trims.
This ECM has been refurbished and upon ordering, it is programmed with the latest calibration version available for these units directly from Toyota. Also, the immobilizer system is programmed and the VIN number you provide is entered, making the ECM "plug and play".
NO CORE NEEDED!
PLEASE NOTE – Processing time, if any, is always noted at the product information block, below the "Add to Cart" button above. This is the maximum time that the order can take to be processed before it is actually shipped to you. The shipping time count starts after Lead Time.
Toyota Part# of this ECM:  89661-02R00
Exchangeable Part numbers that can be directly replaced with this ECM:
89661-02R00 (Toyota)
89661-02R20 (Toyota)
590-51541 (Hollander)
VIN (Vehicle Identification Number)
When you order, at checkout we provide a form so you can enter your vehicle's VIN so we can program it in the ECM before it is shipped to you.
If you do not provide your vehicle's VIN in the provided form or in an email within 24 hours after placing the order, we will ship the ECM without the VIN number. In this condition, the car will still start and function as normal, but the check engine light will be lit for the "VIN Mismatch" error code.
Please, be accurate when entering the VIN. The VIN must have 17 alphanumeric characters. If you provide a wrong or mistaken VIN, please contact us with the correct number within 24 hours after the order is placed. Otherwise, we cannot be held liable for programming no VIN, or the incorrect VIN.
We understand that mistakes do happen. So if you send the wrong VIN or do not provide it when ordering (maybe you forgot to do so), then you may send back the ECM and let us know the VIN so we can program it. In this case, we won't charge anything for the programming service, but we will need to charge you the exact shipping expenses as charged by USPS or FedEx for returning the ECM to you.
WHY BUYING FROM US
We stand by our services and products and offer quality items that are also backed up by a reasonable warranty. These ECMs for example, are offered in many marketplaces, but they are not tested, nor their calibrations are updated, or the VIN is programmed, or the immobilizer is programmed (your car won't start without it). You will get the best value on these ECMs when you buy from us.
IDENTIFYING THE PART NUMBER
The part number of your ECM is located on the label at the top of the ECM as shown below.
Please, before ordering, always make sure your actual ECM part number matches the part number of this ECM or any of the exchangeable part numbers listed further above on this page.
APPLICATIONS
List of vehicle models that this ECM will fit on:
2007 Toyota Corolla CE 1.8L 4 CYL Automatic (A/T)
2007 Toyota Corolla LE 1.8L 4 CYL Automatic (A/T)
2007 Toyota Corolla S 1.8L 4 CYL Automatic (A/T)
2008 Toyota Corolla CE 1.8L 4 CYL Automatic (A/T)
2008 Toyota Corolla LE 1.8L 4 CYL Automatic (A/T)
2008 Toyota Corolla S 1.8L 4 CYL Automatic (A/T)
POSSIBLE SYMPTOMS
A bad ECM in the 2007-2008 Toyota Corolla may cause any of numerous symptoms, but the most common are:
The engine won't start
Transmission harsh shifting problems
The engine starts, but won't go over 2000 RPMs
May give error codes P0601, P0606 or P0607
ECM LOCATION:
The 2005-2007 Toyota Corolla engine ECM is located under the right dash area (below glove compartment area) as shown below. It has a plastic cover, which is attached with two plastic plugs, then the ECM is attached by 4 Tork screws.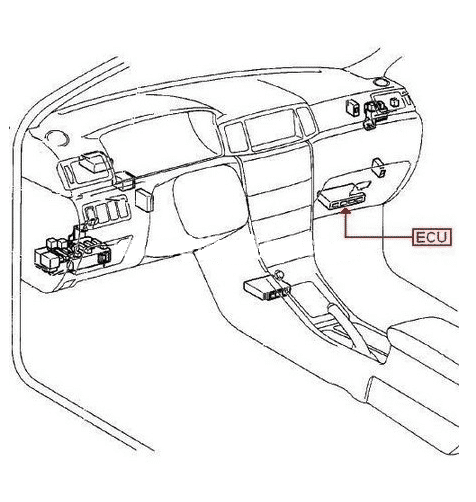 Notes referring to common questions we receive:
This unit will fix problems addressed on the 2005-2007 Toyota Corolla ECM recall.
This is a direct replacement for the 2007-2008 Toyota Corolla ECM.
ECM (Engine Control Module) and ECU (Engine Control Unit) refers to the same part.
No programming needed for starting the engine. Your transponder keys will be automatically registered when installing the ECM and starting the car with all the keys you have.
The warranty of this unit is specified at the top of this page.
We ship worldwide.
We ship through USPS and FedEx.
Shipping to the USA through USPS Priority Mail is FREE.
When installing, it is a good idea to disconnect the vehicle's battery, but it is not a must.
No core charges. You DO NOT need to send back your old ECM as a core.
What other users are looking for:
2008 corolla ecm 2008 toyota corolla 1 8l ecm location toyota corolla computer name
Images Disclaimer:

These are refurbished products. Their internals have been refurbished and put back to factory conditions and have been tested and made sure that they work as intended. In addition, we added a reasonable warranty to them for peace of mind of our customers.

However, while the images shown in this listing are images that identify the product, they are intended for representation purposes only. The actual aesthetic condition of the product may vary depending on the condition of the item (like new or with use marks or blemishes, neat or stained or partially oxidized, straight or with dings, etc.) Nevertheless, we always pick and clean the best one we have at the moment of shipping the order.