Engine Control Module (ECM a.k.a ECU) for the 4-cylinder  2002 Toyota Camry 2.4L, Automatic models with the 2AZ-FE engine.
TOYOTA PART# 89661-3T550
IMPORTANT: You probably have learned that "Used ECMs need programming".  It's true. When you buy a used ECM, you will also need to spare time and money to go to a shop or dealer for programming your ECM. Otherwise, the engine of your car will not start.
BUT,  WE'VE GOT YOU COVERED! This unit has been repaired, refurbished and pre-programmed. This ECM will NOT need programming. It is ready to install and use right away!
Most of our competitors are asking for a greater price for this ECM and the ECM is not even programmed, so if you buy from them, you will need to spend an extra $100 on programming for it to work in your car.
NOTE: Please, before ordering, make sure your actual ECM part number matches the part numbers offered in the list below.
This unit will directly replace ANY of the following ECM part numbers:
89661-3T550 (Toyota)
896613T551 (Toyota)
89666-06240 (Toyota)
89666-06241 (Toyota)
89666-06242 (Toyota)
590-59305 (Hollander)
The part number of your ECM is located on the label of the ECM as shown below. This is an example of an "89661-3K550".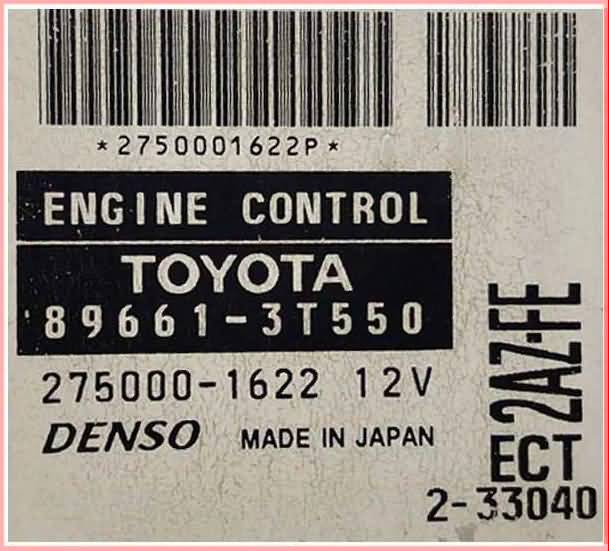 Applications. This will fit the following Toyota models:
2002 Toyota Camry 2.4L Automatic (2AZ-FE engine)
A bad ECM in the 2002 Toyota Camry may cause any of numerous symptoms, but the most common are:
The engine won't start
Transmission harsh shifting problems
Where is my ECM located in the vehicle?
The 2002 Toyota Camry engine ECM is located behind the glove compartment as shown below:

Notes referring to common questions we receive:
This is a direct 2002 Toyota Camry ECM replacement
ECM (Engine Control Module) and ECU (Engine Control Unit) refers to the same part.
No programming needed. Your transponder keys will be automatically registered when installing the ECM and starting the car with your keys.
Warranty of this unit is 12 months.
We ship worldwide.
We ship through USPS and FedEx.
Shipping to the USA through USPS Priority Mail is FREE.
When installing, it is a good idea to disconnect the vehicle's battery.
No core charges. You do not need to send back your old ECM as a core.
What other users are looking for:
[
2002 toyota camry ecm
] [
2002 camry
] [
2002 Camry 2 4L ECM
] [
2003 toyota camry ecu location
] [
toyota camry 2003 model engine control module number
]