Some 2001, 2002 and 2003 Toyota Highlander models are commonly having issues with the automatic transmission too, showing symptoms like the known issues with the 2001-2005 Rav4. In many Highlander models, the problem is also a failing ECM (Engine Control Module) and we can successfully fix it for you.
This ECM module controls the engine and the automatic transmission of your Toyota Highlander. Our professional solution is backed up by a 1-year warranty.
PLEASE NOTE: This is a REPAIR AND RETURN service. After you order, you will need to send your faulty ECM to our location. As soon as it is repaired and reprogrammed, it would be shipped back to you through any of the services we have available for you to choose from (USPS and FedEx).
FREE USPS Priority Mail shipping (5-7 business days) is offered to all 48 USA States, Hawaii, Alaska, Puerto Rico, USA Virgin Islands, Guam, and US Samoa. For faster shipping, we included a rate calculator that can be accessed when adding the service to the cart.
Why sending it to us?
It is simple. Because we offer the most complete service for these units and go further than all of our competitors to make sure that you will have the best experience with us and to make sure that this issue will not happen again to your ECM. We do not only repair the problem, but we reprogram the ECM and fix minor issues that the customer might not even be aware of. As with all other Toyota ECM services we provide, the ECM will be checked for having the latest software version. If it is outdated, we will install the latest update available from Toyota for your specific ECM.
How does it work?
After you complete the order, you would need to disconnect and remove your ECM from your vehicle and mail it to our location. We repair, rebuild and reprogram the ECM and then it is shipped back to you.
The following are the most common symptoms, but there could be other symptoms not listed here:
Hesitation or harsh shifting, especially in 3rd gear
Shifting erratically
Harsh engagement in reverse, often slamming into the gear
Sometimes it feels like it is braking by itself
One day it magically works ok and the other day, all the issues are back
Issues show up only when cold or only when hot
When stopping at a red traffic light and start moving again, it feels very heavy or sluggish
Check engine light does not turn on in many cases
This issue will affect:
2001, 2002 and 2003 Toyota Highlander, all 4WD (4×4) or 2WD, either the 4-cylinder model or any of the 6-cylinder models.
Servicing the ECM of these models is something to be treated with an urge, to avoid damaging the automatic transmission once the symptoms start showing.
Below is a partial list of the Toyota part numbers affected. This number is shown on the label of the ECM.
89661-48231
89661-48230
89661-48240
89661-48241
89661-48250
89661-48251
89661-48260
89661-48350
89661-48360
89661-48370
89661-48380
89661-48410
89661-48420
89661-48430
89661-48431
89661-48440
89661-48441
Where is the ECM located?
Below is a picture showing the location of the ECM in 2001, 2002 and 2003 Toyota Highlander: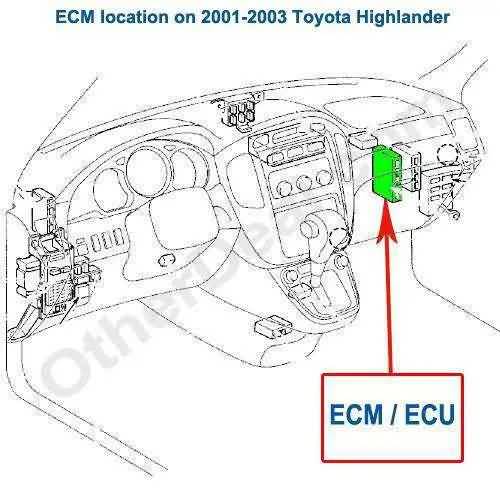 WARRANTY
The included warranty is shown at the top of this page, near the picture and title.
Turnaround Time
Our TAT is only one business day, plus shipping transit time.
What other users are looking for:
2002 toyota highlander ecu programing 2003 TOYOTA ECM REPLACEMENT REPROGRAMMING How to program highlander 2002 ECU toyota highlander ecm location toyota highlander ecm problem what is an ECM in my toyota highlander
Images Disclaimer:

These are refurbished products. Their internals have been refurbished and put back to factory conditions and have been tested and made sure that they work as intended. In addition, we added a reasonable warranty to them for peace of mind of our customers.

However, while the images shown in this listing are images that identify the product, they are intended for representation purposes only. The actual aesthetic condition of the product may vary depending on the condition of the item (like new or with use marks or blemishes, neat or stained or partially oxidized, straight or with dings, etc.) Nevertheless, we always pick and clean the best one we have at the moment of shipping the order.