Personal Helicopter Construction Plans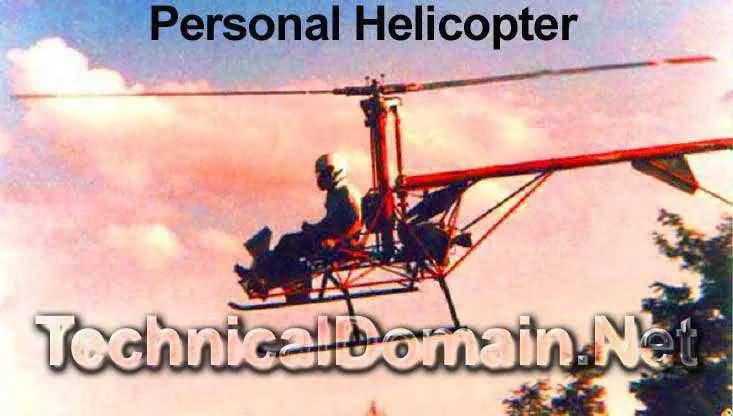 Here we have the construction plans for a personal helicopter. This is not a gyro-style vehicle (gyrocopter), but a mini (personal) traditional helicopter.
Gyrocopters have a push motor in the back and a passive rotating wing as the main rotor. Because of this configuration, gyrocopters cannot take off vertically and rather do it like a normal airplane, needing runway space.
On the other hand, the helicopter detailed in this document is a traditional helicopter. It has a single main rotor and an anti-torque tail rotor, both driven by the same engine. It can take off and land vertically.
The specifications are the following:
Max. flight velocity – 95MPH
Max. Altitude (service ceiling) – 12,500 feet (that's 2.37 miles up or 3.8 Km)
Engine – Rotax, 65hp
Maximum Climb Rate – 1,100 feet/minute (or 18.3 feet every second)
Maximum carrying weight (payload) with a full tank – 350 Lbs
Max. Gross Weight – 700 Lbs [helicopter (325 Lbs), pilot (350 Lbs max.) and a full tank (25 Lbs)]
Fuel Tank Capacity – 8 Gallons
Full Tank Service Range – 80 Miles
Take-Off Distance – 0 Ft.
Landing Distance – 0 Ft.
Seats – 1
As you can see from the specifications, it can fly at a maximum speed of 95 MPH, can go as high as 12,500 feet (2.37 Miles or 3.8 Km height), and can fly up to an 80 miles distance with a full tank. The engine is a 65 hp Rotax engine and the fuel tank has an 8 gallons capacity (gasoline). The climb rate is fairly good for its size. It is approx. 1,100 feet per minute, which means that you can get to the top of a 100 stories building from the ground in about one minute.
The document has 80 pages and it is in PDF format.
Examples of the document details:
This document (construction plans) is completely FREE. Just subscribe by using the form below and you will receive it through email.
Interested in the detailed construction plans for building this personal helicopter?
Complete your name and email to receive free item.