Review: Audew Car Jump Starter 1000A Peak Current
I will start by saying "Don't let this deceiving small size jump starter fool you". New times have come and new technology has arrived and when it comes to the automotive industry, it does not cease to surprise us with all the new ideas, discoveries, and inventions.
This jump starter/charger works like magic. No one expected so much power from such a small and lightweight device like this, especially when one is accustomed to seeing those bulky boxes used for jump-starting a car.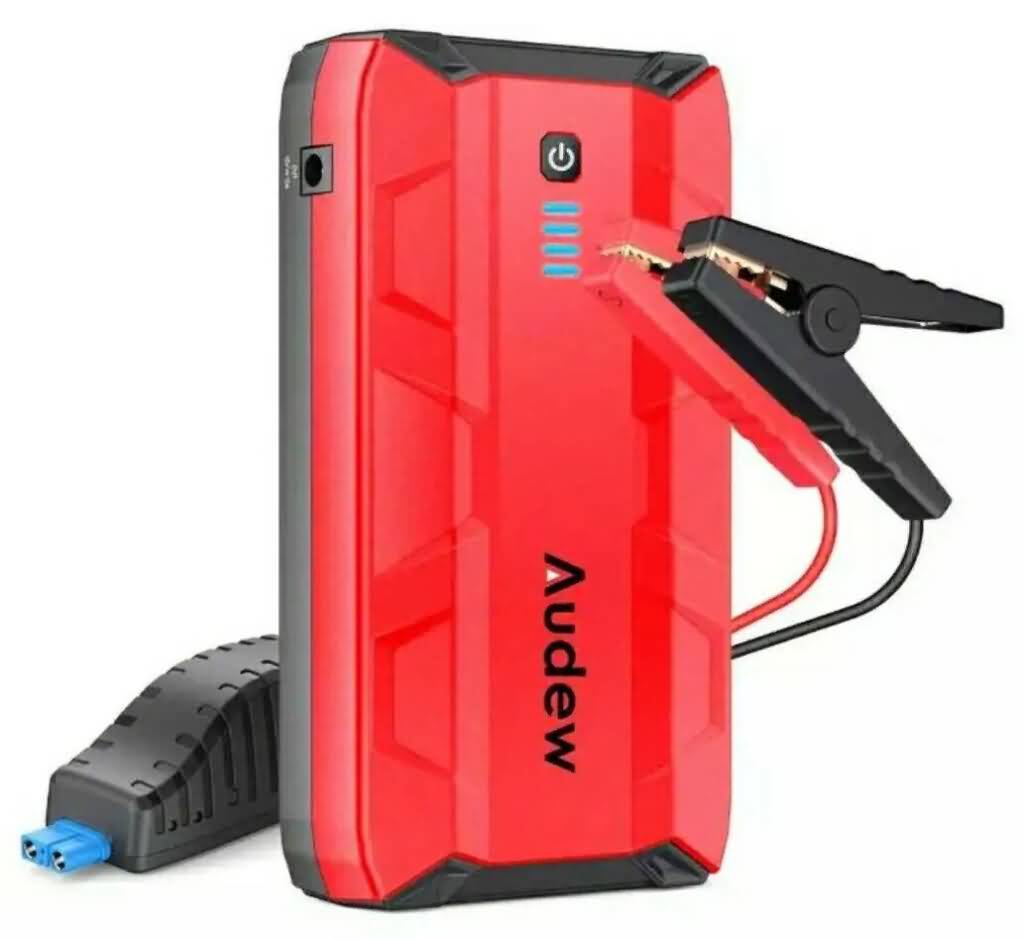 No longer a small-sized battery means a small-sized power capacity. This Audew 100A jump starter compact jump starter and portable charger, small in size and with a weight of only 1.05 lbs (0.475 Kg), has the power to start your car even if your car's battery went completely dead! The technology used in these devices allows it to deliver a peak current of 1000 Amperes! What is that? That is enough cranking power to start from a motorcycle, up to a large multi-cylinder vehicle's engine several times on a single charge. I have seen people test start a v8 engine with this, though the battery probably was not 100% dead, but dead enough for not being able to start the car on its own. You could only hear the starter solenoid engaging, but the stater was not moving until this jump starter was connected and then it started very quickly.
Want to see it in action? Check this brilliant guy from the YouTube channel "Project Farm". He put it to the test in comparison with several other jump starters! The video is great.
This jump-starter/charger also features safety measures, like automatic protection if you accidentally reverse the polarity when connecting the unit to your car's battery, and also features protection for short circuits. This is a very important feature because, in emergencies, we often do not have available the tools needed to know if there is a short circuit in the car's battery or the car wiring system and as you may already know, short circuits in the automotive systems almost always mean high currents that can start a fire. The ability of this jump starter to manage all those critical factors makes it an ideal tool.
The compact size of this unit is great. You may have it stored in the trunk or even in the glove compartment, as it roughly measures 168mm x 89mm x 37mm (6 5/8″ x 3 1/2″ x 1 15/32″). Could you imagine? There is no longer the need of using bulky heavy equipment for jump-starting your car's battery and no need for long jumping wires for jumping from one car to another. This also brings to the scene that you no longer need to look for or wait for someone willing to help you jump start your car with their car, which may also represent a personal security hazard if it is a stranger. Have you ever been stranded for a long time in a parking lot waiting for someone to help you start your car? No longer! Very easy to use. Makes it a great gift for your wife, daughter, or anyone of your friends or loved ones!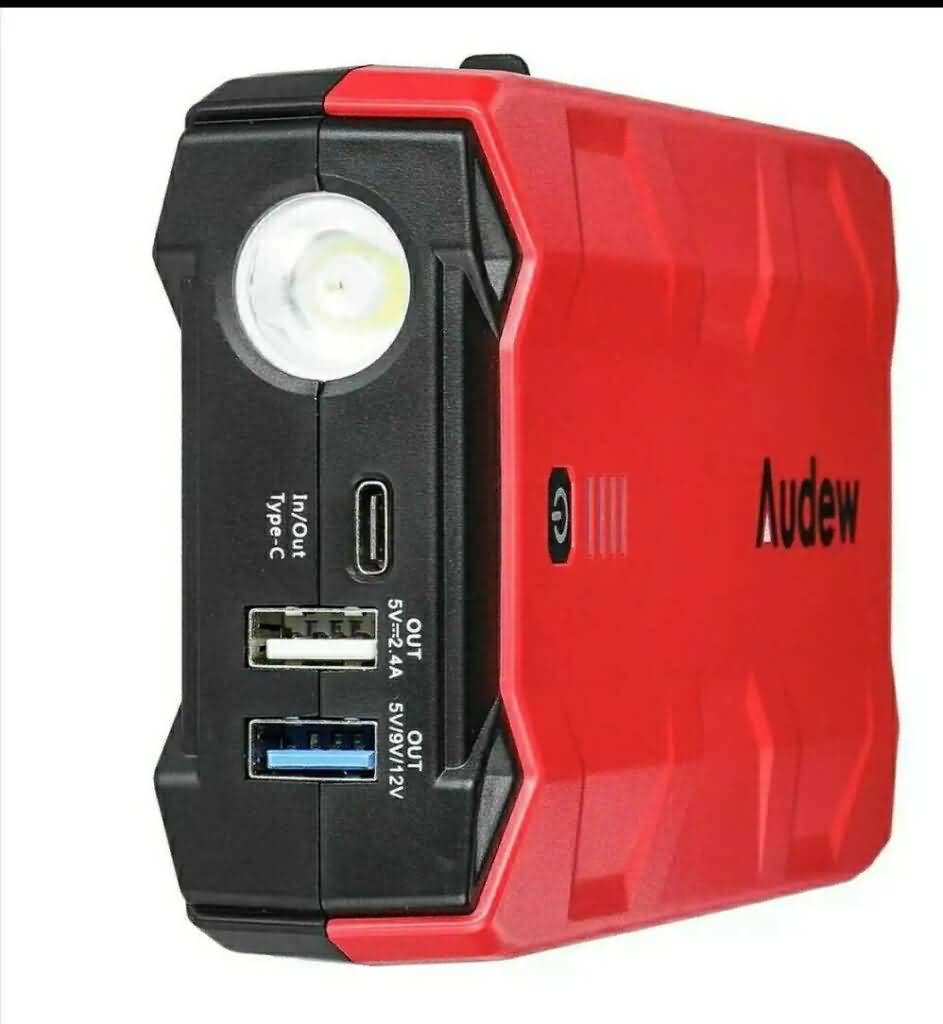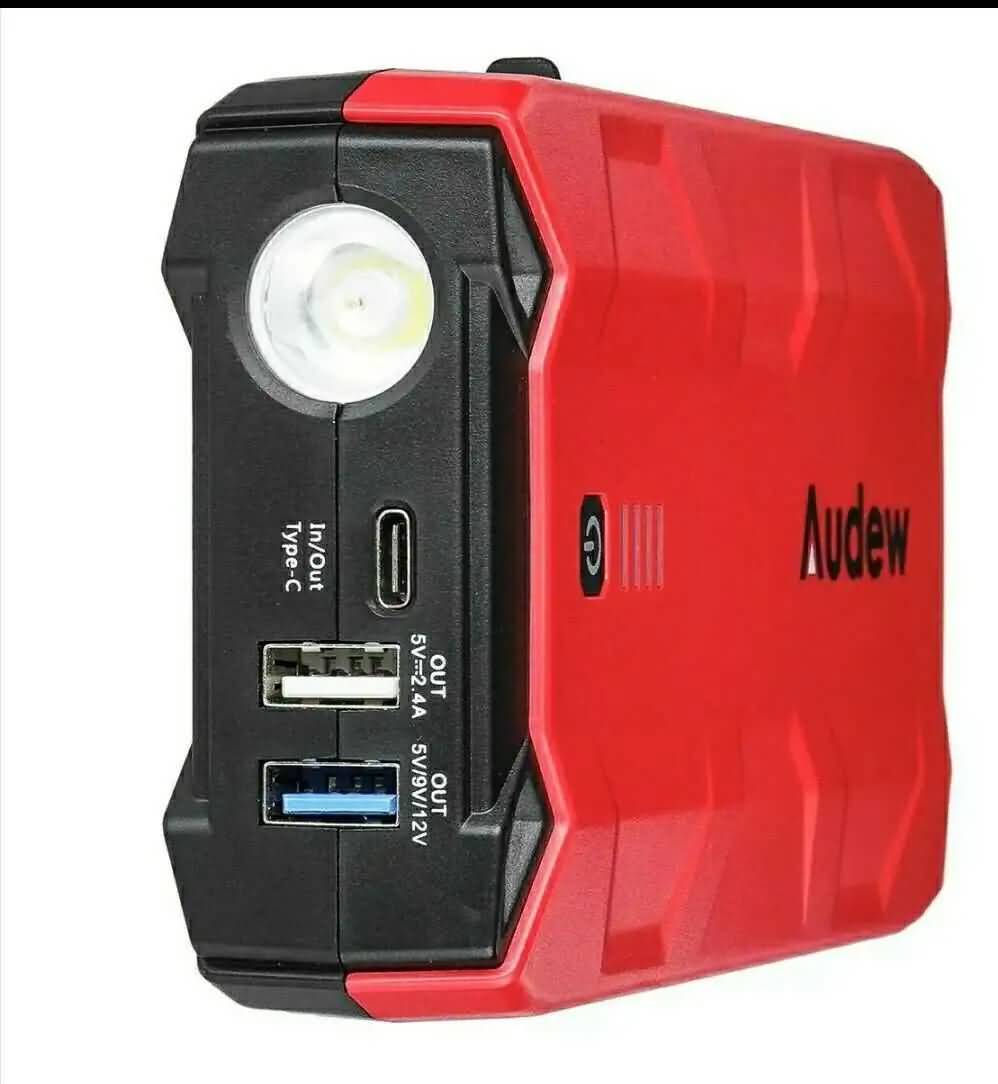 When the internal battery of this jump starter is weak, it can be recharged in only 2 and a half hours and it will be ready to go again. It even includes a built-in LED flashlight, in case you need to work with your car battery in a dark place, and also includes 2 USB outputs and a type-C mini USB, which serves as an output and as an input at the same time for recharging the jump starter's battery. Need to charge or power your mobile phone or any other USB-powered device? No problem. The Anker Compact jump starter has 2 USB standard ports as output, one for 5v, 3A, and the other with multiple voltage output (5v, 9v, and 12v) for powering different devices with different voltage requirements. This is something that your Swiss knife will never have 🙂
What is included: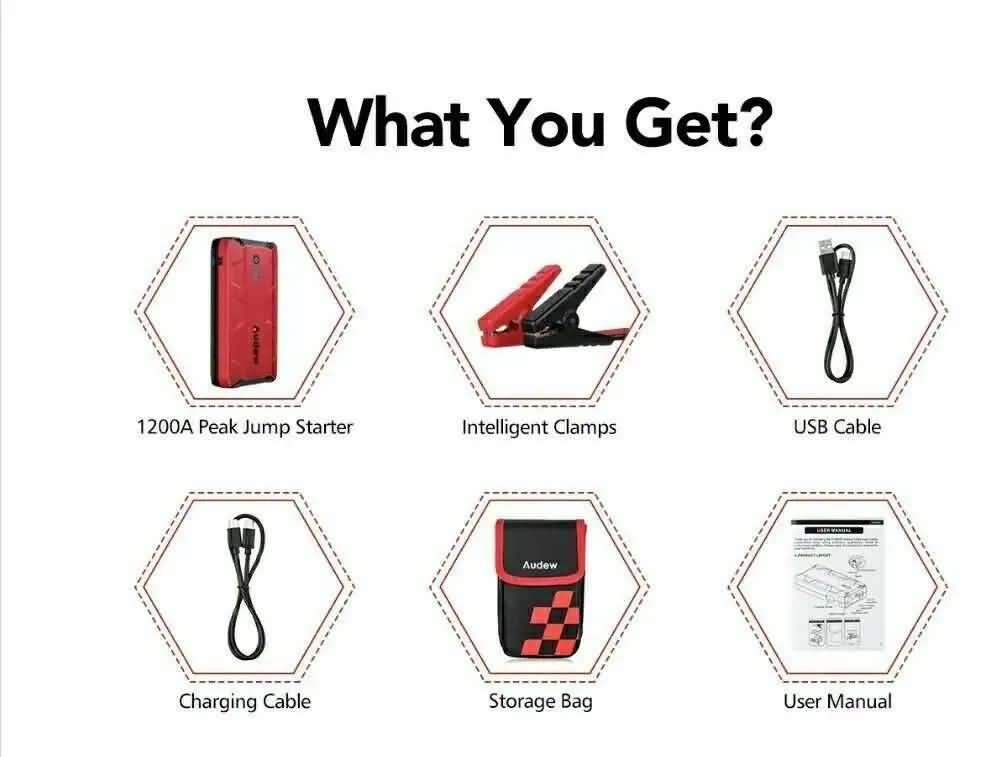 What is the technology behind this product?
Lithium-Ion Polymer (LiPo) batteries. LiPo batteries can store a huge charge. Charge densities of this type of battery are greater than standard batteries, like Alkaline batteries, Nickel based batteries, and even lead-acid batteries. These are no ordinary LiPo batteries, but special LiPo batteries with a very large discharge capacity. Another advantage is that technically, lithium-based batteries can hold a charge (shelf life) for as long as 5 years.
Jump-starting a vehicle
For jump-starting a vehicle;
1. Turn off the lights or any accessory that might be on and make sure the ignition switch is in the off position and that the car is in parking.
2. Open the engine compartment hood and turn on the Jump Starter.
3. Connect the jumper wires to your jump starter if you have not done it yet and connect the red clamp to the positive terminal of the vehicle's battery and the other clamp to the negative terminal of the vehicle's battery. Make sure that it has a good electrical connection by moving and wiggling a little the clamps while connected to the battery terminals so it gets rid of any oxides or dielectrics.
4. Allow about a 5 seconds wait before starting the engine. I suggest waiting for at least10 seconds before turning the key to start the engine instead. This will allow for the jump starter to pass a small amount of the charge to the car battery, making it even easier to start.
5. If the engine does not start, wiggle again the clamps a little, looking for a better electrical connection, and wait another 10 seconds before turning the ignition key.
6. Your vehicle's engine should be running by now.
When the engine starts, remove the jump starter clamps from the battery.
It is recommended that you check on the jump starter charge status from time to time and charge it as needed to ensure that it will always be usable, as is easy to forget about it and it would be a bad surprise if you have it discharged when it is needed. Again, this is a piece of very low-maintenance equipment. Once charged, if not used, the charge will be stored for a very long time in the range of more than a year.
After you jump-start your car, make sure you get your battery and vehicle's charging system checked for defects to avoid the situation from happening again.
Want to make the most out of your jump starter? Here are some tips:
-Charge the internal battery at least once every 3-4 months. The charge has a storage life of more than a year in good conditions, but this is important, as this will avoid shortening the life of the battery.
-Do not attempt to start engines larger than recommended.
-Even when it is protected against short circuits, to avoid injuries and possible equipment damage, do not jump the positive clamp to the negative clamp.
-Disconnect the jump starter from your car's battery as soon as the engine starts.
-Do not store in temperatures above 140 degrees Fahrenheit. If you park your car in hot, sunny areas, it is advisable to store the jump starter outside the car.
-Avoid freezing temperatures too (below zero degrees Fahrenheit) as it might affect the performance of the jump starter internal battery.
Pro's about this unit?
-Latest Lithium-Ion (Li-on) technology
– No messy long wires
– No heavy equipment
– No need for a second vehicle for jump-starting
– No need to ask strangers for help
– Internal battery holds a charge for a very long time.
– Even with the warnings on temperature, very low or very high temperatures seem not to affect it in most cases
– Even with the warnings on maximum engine size, it is known that this unit has jump-started v8 engine vehicles without a problem
Con's about this unit
– None that I have found so far, except that since it works so well, once you have it you will find yourself looking for stranded people for showing up your wonderful toy.. eh.. tool 🙂
What other users are looking for:
audew 1000a review