Automotive scanner / programmer/ multi-diagnostics Autel Maxi IM608.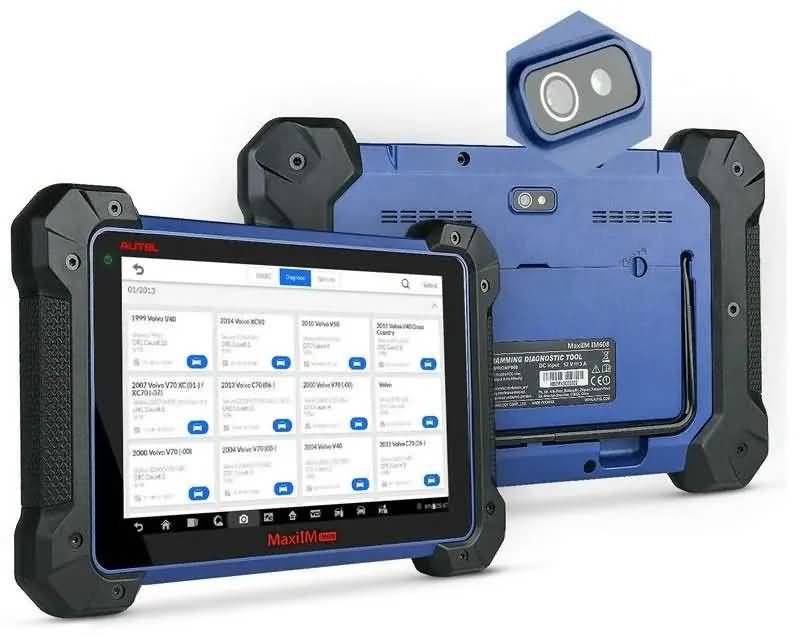 What does it do?
Car diagnostics (scanning), programming, updating, key programming, functions testing, individual components activation for testing, and much more. We recommend this unit as it is excellent. We use one of these as part of our tools arsenal and it has never let us down!
Do you already have this unit and need the user manual? Or just to know its functions? No problem. You can download the documents here:
| | |
| --- | --- |
| Autel Maxi IM608 Quick reference guide: | |
| | |
| Autel Maxi IM608 User's Manual | |
Description:
This professional automotive multi-tool (Autel Maxi IM608) is one of the most advanced tools available on the market with outstanding functions for diagnostics, testing, and programming of your car's systems.
Car keys: This product has tools that combine the most powerful functions for working with engine immobilizer (automotive anti-theft system), transponder keys / smart keys programming, and read, write, and identify the MCU and/or EEPROM chip.
Scanner: The scanner part is not just a scanner, but a very powerful tool equipped with factory-level diagnostics and advanced service functions, like actuation and testing of isolated components, like relays, fans, solenoids, etc., all done through the diagnostic OBD port in your car.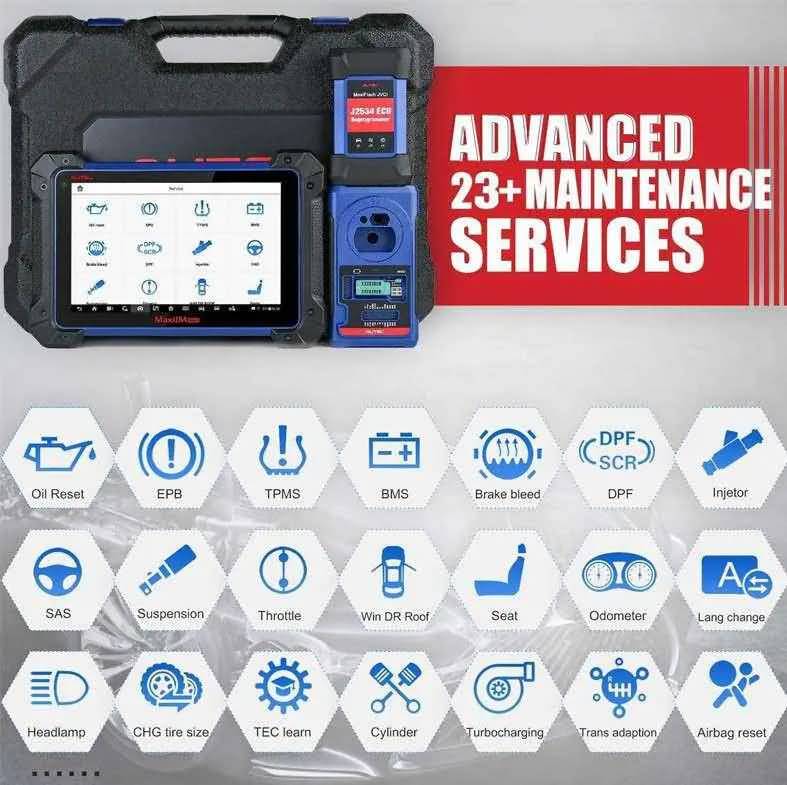 Extras: Also included, is the XP400 key programmer and the J2534 pass-thru MaxiFlash JVCI ECM / ECU Reprogrammer.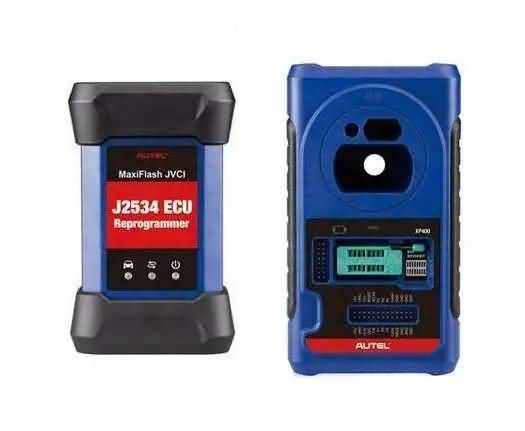 Diagnostics: Read (scan) and clear fault codes (check engine light) and shows a short description of the fault codes read. Besides accessing the information and the various sensors of the engine controller (ECM), it can also retrieve information on the and view live, real-time data on the fly from various other control systems, like the transmission control module (TCM), the antilock brake system (ABS), and the airbag system (SRS).
Helps with part replacements: It has coding functions that allow you to change vehicle parts that need to be coded, like injectors, the ABS module, the starters, .etc.
Engine programming: It can flash/reprogram / update and code the engine controller (ECM) online through the J2534 pass-through device (included).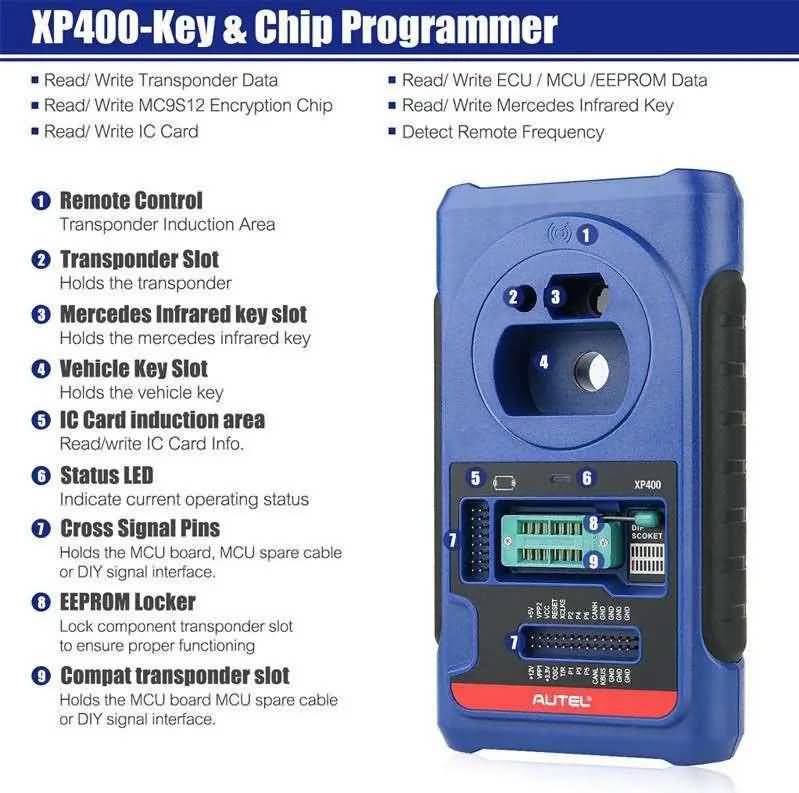 Autel MaxiIM IM608 Advanced immobilizer and Key Programming functions
Smart Mode: for Guided and Automated Key Learning
Expert Mode: for Advanced Key Learning
Read PIN / CS (when all keys are lost)
Generate Key
Key Learning
 Remote Learning
 Backup / Restore immobilizer data
ECM immobilizer reset / adaptation
Reflash / Coding of the ECM immobilizer
Add immobilizer keys to 3rd generation Mercedes Benz cars, for when all keys are lost or for key learning
Key learning and ECM adaptation for BMW, FEM / BDC
Key Learning for BMW security systems CAS2/ CAS3/ CAS4
Key Learning, 48 transponder (96-bit) add key for Volkswagen (VW) / Audi MQB, all keys lost condition
Solution foe when all keys are lost for Audi A6
Protocols: ISO9141-2, ISO14230-2, ISO15765-4, K/L-line, SAE-J1850 VPW, SAE-J1850PWN, CAN ISO11898, Highspeed, Middlespeed, Low-speed, and Singlewire CAN, GM, GM UART, UART Echo Byte Protocol, Honda Diag-H Protocol, TP2.0, TP1.6SAE J1939, SAE J1708, Fault-Tolerant CAN
Included XP400 Key and Chip Programmer
The XP400 is specially designed to read transponder data (including Mercedes Benz infrared smart key), clone and generate exclusive keys, read/write on-board EEPROM data, and read/write Freescale 9S12 encryption MCUs.
Works with both, the diagnostic tool and the PC were both are loaded with the programmer software. Read and write functions of the XP400 are quick and accurate.
Support PC systems
 MCU / EEPROM Chips read / write
 ECM read / write
MC9S12 Encryption chip read / write
Transponder Key read/write
Mercedes Benz infrared key read/write
Detect the frequency of remote controls
IC Card read/write
Vehicle List
Abarth, Acura, Alfa, Aston Martin, Audi, Bentley, BMW, Bugatti, Chrysler, Citroen, Dacia, Daewoo, Daihatsu. Dodge, Ferrari, Fiat, Ford, Fuso, GM, Honda, Hyundai, Infiniti, Isuzu, Jaguar, Jeep, Kexus, Kia, Lamborghini, Lancia, Land Rover, LT3, Mahindra, Maserati, Maybach, Mazda, Mercedes Benz, Mini, Mitsubishi, Nissan, Opel, Perodua, Peugeot, Porsche, Proton, Renault, Rolls-Royce, Saab, Scion, Seat, Skoda, Smart, Ssang Yong, Subaru, Suzuki, Toyota, Vauxhall, Volkswagen, Volvo
Features of the construction of this product:
Extraordinarily powerful Cortex A7+A15 six-core processor
Operation System: Android 4.4.2, KitKat
10.1-inch LED capacitive touch screen with 1920×1200 resolution
Internal reliable 64GB On-board Memory for better performance
Built-in 8.0 megapixel rear camera with autofocus and flashlight
802.11 a/b/g/n/ac Wi-Fi to access your favorite web resources
Open source Android Operating System for fast boot-up and multitasking
2GB RAM and 64 GB Onboard Memory
BT v.2.1+EDR
SD Card (Support up to 32GB)
HDMI
 Gravity Accelerometer
Ambient Light Sensor (ALS)
Microphone, Dual Speakers
3-Band 3.5mm stereo / standard headset jack
Charging via 12V AC/DC adapter
Input Voltage: 12V (9-24V)
Power Consumption: 6.5W
Operating Temp: 0C to 50 C (32F to 122F)
Storage Temp: -20C to 60C (-4F to 140F)
Dimensions (W*H*D): 300mm (11.81″) x 220.0mm (8.66″) x 50.0mm (1.97″)
Weight 3.13lb (1.42kg)
GW: 19.08lb (8.655kg)
What's in the box:
1x – Autel MaxiIM IM608 Main Unit
1x – APC101 USB Cable
1x – APA101 Signal Cable
1x – MaxiFlash JVCI
1x – APB101+APD101(EEPROM Adaptor+EEPROM Adapter Shell)
1x – APA103(EEPROM Clamp)
1x – XP400
1x – APB102 MB IR Cable
1x – APA104 ECU Clamp
1x – Main Cable
1x – APB104(MCU_FQFP64)
1x – APA105(MCU Clamp)
1x – USB Cable (2m)
1x – APB105 MCU_FQFP80
1x – APA106(MC9S12 Clamp)
1x – Mini USB Cable
1x – APB106(MCU_FQFP144)
1x – APA107(Connect Cable)
1x – AC/DC 12V Adapter
1x – APB107(MCU_FQFP144)
1x – Quick Reference Guide
2x – Light Fuse 6*30mm
1x – APB108(MCU_FQFP176)
1x – Packing List
1x – Cigarette Lighter
1x – APA002(EEPROM Socket)
1x – Carrying Case 634*170*404mm
1x – AAC001
Autel MaxiIM IM608 is multi-language (English, Spanish, German, Japanese, Portuguese and French)
Warranty:
This unit has a 1-year warranty against defects, software issues or hardware problems. In the first 3 months, the warranty will be covered by us. That way you will have a faster and more local response to any case that may arise. After 3 months, the warranty will continue to be covered for 9 more months, but in that case, the coverage will be with the manufacturer (Autel).
Updates:
You will also have free access to updates for this product during the warranty year.
What other buyers are saying:
"Very easy to use. The immobilizer functions of this product are amazing. If you're looking for a good overall key programmer for most complicated keys, Autel IM608 definitely a good choice."
"Great scanner and easy to use. This was well worth the investment. It is equipped with XP400 key programmer and a J2534 pass-thru ECU flasher to provide coverage of the immobilizer systems and programming functions."
"Money well spent. I have used this tool over almost a week now. I love it. This tool provides all the info you need to perform any programming tasks. I was able to program a key to a 2005 Mini Cooper on my first try. I love both the immo app and the diagnostic app and how it comes along with it."
"Works great. It is much faster than all my other tools."
"I purchased this scanner to diagnostic all my cars that I get from salvage auctions and most of the time those cars come without keys. This scanner is like Magíc as I don't even need keys to turn on the car. The best purchase I have ever made."
"Works great! I have many other scan tools and I like this better than the other ones for which I have paid as much as $10k. This one does so much more for a lot less money."
"Wonderful and powerful diagnostic and programming tool. Did a 2013 C230 all key lost in 30 minutes thru OBD2."
"I use this device to program keys for which it is working perfectly."
"It has currently helped me with GM and Ford key programming and Chrysler diagnostics. I am even starting to look into working on the European line. I feel I am just scratching the surface of what this Autel is capable of accomplishing."
"It does BMW CAS keys with no issue."